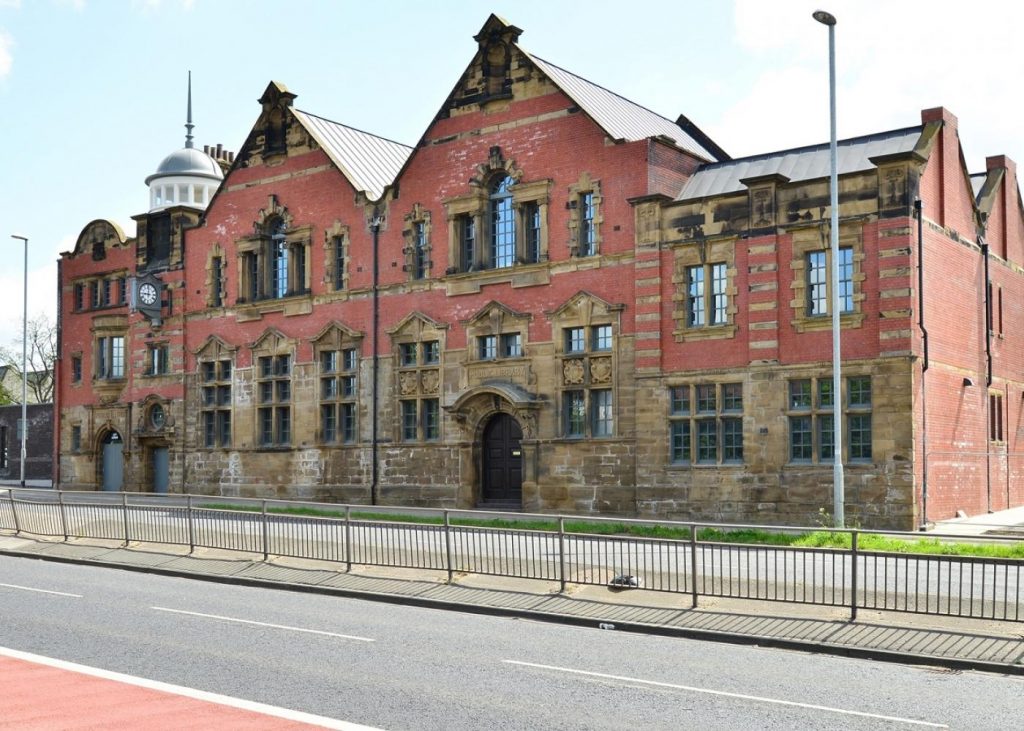 A new chapter for landmark former Library Building
August 8, 2018
A new chapter in the life of the landmark former York Road Library begins, as the development company behind its remarkable transformation hands over the keys to make way for a new state of the art gym and fitness centre.
Award winning Leeds based property company Rushbond has led the comprehensive programme to bring back into use the Grade II Listed building, alongside the development of a new contemporary extension to complement this historic Leeds asset.
Leading low-cost gym operator, The Gym Group, is now carrying out a full internal fit-out of the 16,000 sq ft development, comprising of fitness suites, weights rooms and studio space, leading towards the formal opening later in the summer.
The Library was originally designed for Leeds City Council by Architects HA Chapman and opened in 1903.  On a key strategic gateway into Leeds City Centre, the stone and brick building, with its grand elevation onto York Road, had sat empty and unused since the Library closed back in the 1970's.
Mark Finch, Director of Real Estate from Rushbond, said: "This is a much-loved Leeds icon, which holds memories for so many people including local residents and all those who visited the Library or went to the baths for their school swimming lessons!
"Finding new and suitable uses for such historic assets is often challenging and particularly when it's important to remain true to its heritage, but in many respects a gym is an ideal use and the building can once again contribute to the health and wellbeing of the local community.
"The highly recognisable character features of the building, such as the clock and the 'Leeds Owl' mosaic in the entrance hall, have all been painstakingly restored.  Features such as these will really add to the experience of working out and getting fit in a facility operated by one of the country's leading gym operators."
Adam Haines from The Gym Group, who is general manager of the new gym, said: "We are really looking forward to opening our latest Leeds gym in this remarkable building.  It is a great location and the building is full of fascinating features.  Combined with The Gym Group's award-winning service and high specification equipment, we are confident that this gym will exceed any other offer in the area and we are working hard to make this facility available for the local community as soon as we practically can."
Leeds Civic Trust Director Martin Hamilton said: "This building – an important listed heritage asset – could so easily have been lost forever, so Leeds Civic Trust welcomes the imaginative reuse and restoration of this building, and are pleased that its future has been secured."
Councillors Denise Ragan, Ronald Grahame and Asghar Khan said: "The completion of the work on the old library is a real boon to the people of Burmantofts and Richmond Hill.  It is a brilliant building that has been wonderfully restored and brought back into use.  It's great to see the developer repairing the building, which has been a landmark in the local area for over 100 years, instead of tearing it down. The new gym is a boost for the community and we look forward to its opening this summer."
A new chapter for landmark former Library Building