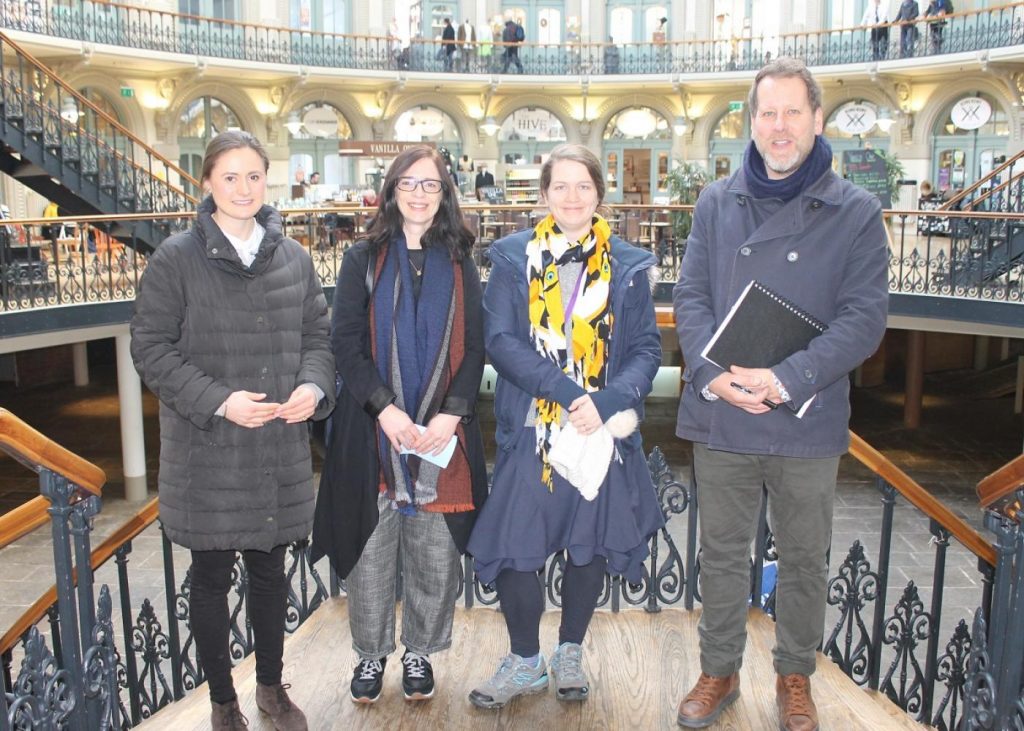 Talented design students can have a seat in one of the City's most historic buildings
August 8, 2018
A group of talented product design students will soon see their innovative table and chair concepts furnishing one of Leeds city centre's most illustrious landmark buildings, thanks to Leeds-based property company Rushbond PLC.
The award winning property investment and development company formed a partnership with Leeds Beckett University back in 2014, establishing an arts scholarship programme. First Year Product Design students have this year created a wide range of stunning table and seating designs for the new Kitchen Yard area within the iconic Grade I listed Corn Exchange.
Rusbond acquired the Corn Exchange in 2017 as part of the company's continued investment and revival of the Kirkgate area of Leeds.  The company has recently embarked on an evolutionary programme of improvements which include the re-configuration and re-activation of the lower ground floor with the new Kitchen Yard that will provide a unique and vibrant space for independent food traders will serve up a huge range of delicious delights.
The multi-functional Kitchen Yard will also host events and exhibitions, and all the designs created by the University students will be exhibited in the space during March and April. The most successful design will then be taken into production for installation later this year.
Robin Brinkworth from the Leeds School of Art, Architecture & Design, which is part of Leeds Beckett University, says: "This partnership has provided our students with a unique and exciting opportunity to be part of Rushbond's sensitive development of this wonderful and historical building.
"Our students had to consider the truly unique environment of the Corn Exchange and celebrate the art of food and community. It was essential that their ideas should accommodate the flexible nature of the Kitchen Yard, so they needed to be easily reconfigurable and accommodate approximately 100 covers. The brief to students was to demonstrate a robust and practical design that was also playful, flexible and responsive to the Corn Exchange.  The concepts have to be suitable for a variety of ages and of course be imaginative – taking inspiration from this beautiful 155 year old building."
Georgina Maud, who is the creative assistant at Rushbond, says: "The Corn Exchange has a fascinating heritage and we feel very proud to be heralding a new era within these beautifully curved walls and attract more and more people to meet, eat and shop here. We are big believers in the importance and power of design, and were keen to tap into the talent of the future by joining forces with the University's product design students.  Some of the results have been very innovative and indeed inspirational.
"The Corn Exchange attracts a huge age range of people including families, students and young professionals, and one of our main focusses has been making the building more accessible to people in wheelchairs and those with pushchairs. Now that we have achieved that, we're keen to ensure that the new areas like the Kitchen Yard, are developed to their full potential, so the design competition is a great way of achieving this."
Robin adds: "Our Alumni Association has helped us to connect the University with several City Centre projects, allowing our students to engage creatively with the City's heritage and hopefully help to retain our talented young designers here in Leeds. This project has been part of our student's final assessment and has been a fantastic way of utilising a real-life scenario that will not only showcase the students' work via the exhibition, but also see one of the designs taken into production."
The exhibition opens this week and the designs will be on display until 23rd April 2018. For more details contact Rushbond on 0113 201 8899.